Tapered Seat Spark Plug
● 0.7 mm diameter untra-fine iridium alloy electrode make ignitability and life have a dramatically improved.
● By joining an ultra -fine iridium alloy tip on center electrode and platinum tip on ground electrode.
● Milleage drivability and durability are improved by using a finer center electrode with a platinum tip.
THE PLUG CONNFIGURATION

1

D14*L19*HEX 25

2

Chrysler's PT Curiser,Dodge,Magnum

3

ILT16/ILT20
Improved Fuel Mileage
Even during idling ignition is assured, with less fuel consumption.
The good ignitability from the fine electode (0.4 mm) of IRIDIUM POWER draws out much more performance from the engine. Comparing a normal plug (W20FS-U) with an IRIDIUM POWER (IWF22) on a 2-cycle 50cc engine, fuel consumption improved from 41.74 km/L → 43.69 km/L, an improvement of about 5%.
Note: Mileage measured using a chassis dynamo; actual driving results under normal conditions may vary.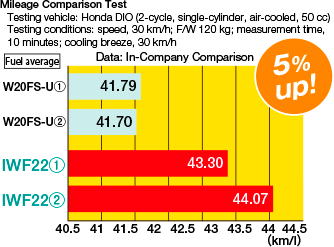 ---
Previous:
Iridium Power Spark Plug
---